THIS YEAR, RUN THE 20KM OF BRUSSELS TO SUPPORT DOCTORS WITHOUT BORDERS (MSF) PROJECTS IN UKRAINE
Do you want to make a difference for the people affected by the conflict in Ukraine? Join the MSF team and participate in the 20km of Brussels. By running for MSF, you are supporting our commitment to people affected by the conflict.
registration is closed
WHAT IS DOCTORS WITHOUT BORDERS (MSF) DOING IN UKRAINE?
In 2014, hostilities between Russia and Ukraine began. In February 2022, it escalated when Russian troops attacked several cities throughout Ukraine. Intense fighting and shelling led to 7.8 million people leaving Ukraine and becoming refugees.
MSF stepped in to provide humanitarian and medical assistance. Today, our team consists of 116 international and 685 Ukrainian employees who work in different fields such as medicine, psychology, logistics, etc. Our teams are currently dispersed throughout Ukraine, deploying multiple emergency medical response facilities, as shown below:
×
REHABILITATION IS THE KEY TO HEALING
Thousands of people were severely injured during the war in Ukraine. Trauma patients are stabilized and undergo surgery if necessary, but they are at high risk of permanent damage from their injuries. Without proper and prompt post-operative care, their recovery can take much longer than necessary, or even be incomplete. That's why our teams in Vinnytsia and Kyiv have begun providing rehabilitation care to war-wounded. We assess their injuries, treat them and provide them with physiotherapy.
NOT ONLY PHYSICAL WOUNDS, BUT ALSO PSYCHOLOGICAL INJURIES
Psychological care is also of utmost importance given the high rate of emotional distress and trauma that many people in Ukraine have suffered since the war began. MSF has provided mental health support to displaced and vulnerable people. The organization has observed intense fear, constant stress, persistent worry, despair and panic attacks among the people. In order to support patients suffering from mental health problems, our teams have set up victim support units, treatment and follow-up.
Psychological assistance in Zaporizhzhia -MSF Psychologist Marina Popova provides psychological assistance to a woman who has just arrived by bus at the Zaporizhzhia reception center - 02/05/2022 - ©Pau Miranda.
A MEDICAL TRAIN
Between overwhelmed hospitals and the ongoing instability in many areas, MSF has played a critical role in medical evacuations. This year marked the first time a highly specialized medical train staffed by MSF medical workers moved vulnerable patients to safer areas for treatment. Between March 31 and December 19, they evacuated 2,607 patients and 78 orphans, relieving pressure on hospitals and providing patients with medical care away from direct violence.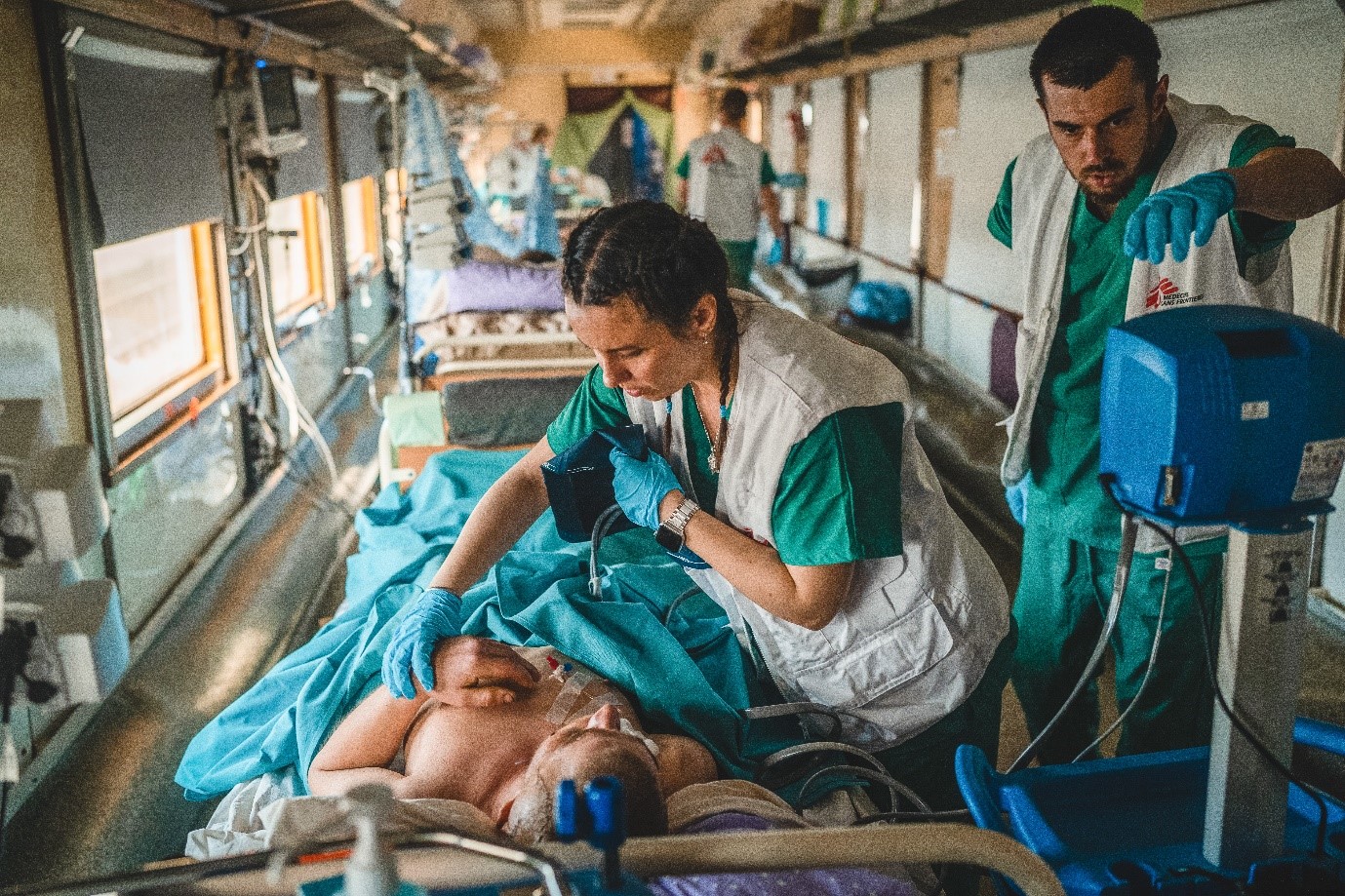 Doctors on Rails - MSF Medical Train in Ukraine - The medical team inside the intensive care unit (ICU) of the MSF medical train monitors and stabilizes a severely war-wounded patient during the journey from Pokrovsk in eastern Ukraine to Lviv in western Ukraine. The journey takes about 20 hours - 20/05/2022 - © Andrii Ovod
COMPREHENSIVE SUPPORT FOR HEALTH WORKERS AND INFRASTRUCTURE
We provide medical supplies to enable our teams to intervene urgently to help the war wounded. At the end of 2022, we estimated that more than 800 tons of medical equipment had been sent from our warehouses to Ukraine. These shipments are both for our teams and for the hospitals supported by MSF, which are receiving medical equipment such as medicines, laboratory consumables, food for patients, etc. We also provide electricity and drinking water to different health facilities.
Come walk or run with us and help us make a difference in the lives of thousands of people in Ukraine!